Product Description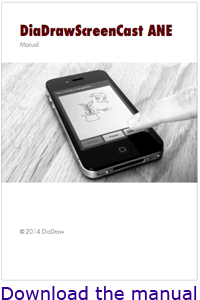 What does it do?
DiaDrawScreencast.ANE is an AIR Native Extension for iOS which allows you to make a video recording of a given DisplayObject in your app and mix in pre-recorded sound. You have the option of encoding the videos with H.256 or JPEG and selecting video quality. See VideoSettings for full details.
What does it NOT do?
DiaDrawScreencast.ANE won't record screens that are not part of your app.
Developed in collaboration with