Yesterday we saw how a Native Extension is loaded in memory: what calls are made and in what order. Unloading the extension follows a similar scenario, except:
unloading can be triggered by one of three different things – have a look at

1a

,

1b

and

1c

on the diagram below;
there is no guarantee that an extension will be unloaded at all. This is an example of the calls that happen in an iOS ANE: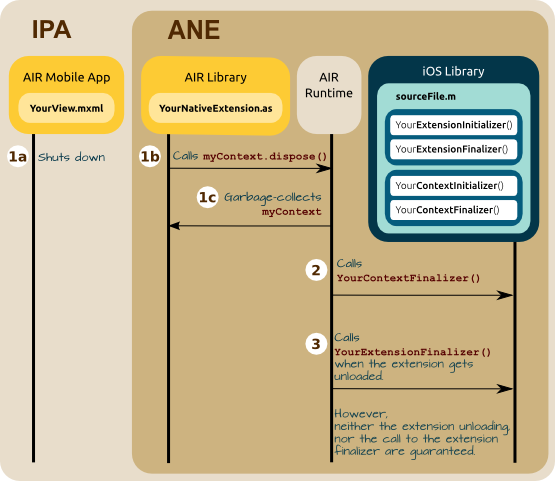 1. Unloading is triggered 
To cause an extension to be unloaded, one of three things (but not all three) needs to happen: 
1a. The app shuts down and is unloaded from memory. 
1b. Your AIR Libary calls 
1c. The AIR Runtime garbage collector detects no references to your extension context and disposes of it. 
What else?
Important terminology:
Here is also a reminder of what happens when your extension is loaded in memory.
Next, we will get to the meat of an extension and discuss how function calls are made. There be pictures!
Over to you
At what stage is your ANE at the moment? What's stopping you from finishing it? Let us know in the comments below.