We sometimes get asked for help with putting ANEs for Windows together, build automation and debugging. The inspiration for this tutorial came from Eric Zwar, who bought our eBook Easy Native Extensions, which has examples for iOS, and heroically applied its principles to making an AIR Native Extension for Windows.
Thank you, Eric! I hope you like this one.
What goes into an ANE for Windows?
The Windows structure of an ANE is peculiar with the fact that it requires native code to be built into a dynamic-link library, DLL. This is in contrast to iOS and Mac OS, where the native implementation is built into a static library (.a).
Here is a bird's eye view of an ANE for Windows: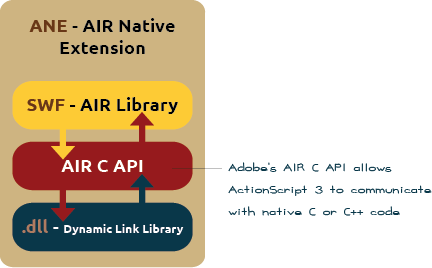 An old blog post of ours contains more diagrams and will show you details of what goes into the DLL: What goes into an AIR Native Extension for Windows?
How is this tutorial organised?
We will build a Windows ANE together in stages. Each stage will be published in a blog post and each blog post will be listed below as it becomes public. If you are reading this in the future and the whole tutorial is out, feel free to jump to a particular part and use it as a reference.
Ready for kick-off?
Start here.